2017 CORPS de Ballet International Conference19th Annual Teacher Conference
Innovation and Collaboration:  Integrating Media, Technology, and Creative Thinking Into Ballet Pedagogy, Performance, and Scholarship
Hosted by: Brigham Young University and Ballet West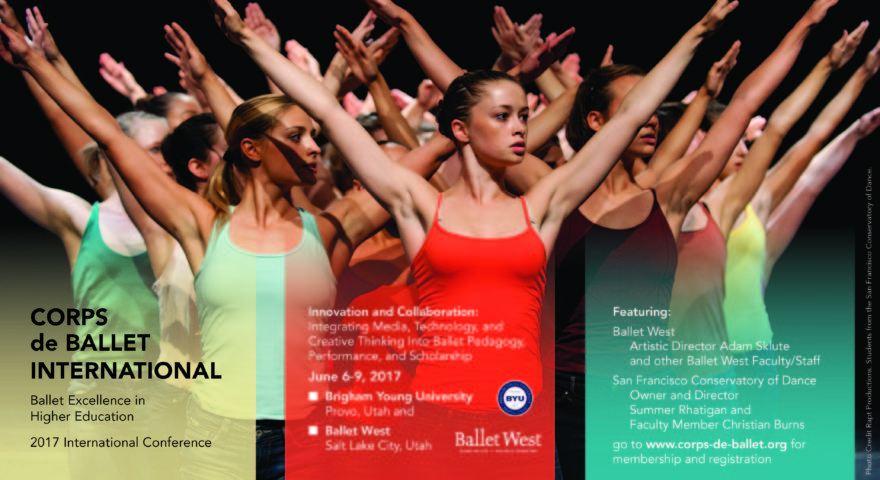 Guest Artists
ADAM SKLUTE | Artistic Director, Ballet West & Ballet West Academy
Since 2007, Adam Sklute has expanded Ballet West's repertoire, visibility, and overall outlook with exciting Company premieres, increased touring and public exposure, and greater focus on Ballet West Academy and Ballet West II.
Under Sklute's leadership Ballet West has toured extensively, appearing three times at Washington DC's Kennedy Center for the Performing Arts to sold out audiences; a weeklong engagement at New York City's Joyce Theater; Chicago's Auditorium Theater with two separate programs; twice at New York City Center's Fall for Dance Festival; and twice at the Chicago Dancing Festival. The Company has also appeared at Wolf Trap National Park for the Performing Arts, The Laguna Dance Festival, Aspen, CO, Dallas, TX, twice in Las Vegas, NV, Minneapolis, MN, and Victoria, BC.
In 2009, Ballet West graced the cover of Dance Magazine for the first time in 25 years and again was on the cover in 2013. Under Sklute, the Company has garnered numerous reviews and articles in such publications as The New York Times, The Washington Post, Dance Magazine, Ballet Review, and Pointe to name a few. Ballet West was the subject of the BBC Worldwide Production's docu-drama television series Breaking Pointe which aired for two seasons on The CW channel.
Sklute has introduced Ballet West audiences to such renowned contemporary choreographers as Nicolo Fonte, Jiri Kylián, Mark Morris, and Twyla Tharp, among others, all while expanding the company's Balanchine repertoire and adding early 20th century Diaghilev-era masterpieces. In addition to reintroducing lost elements of Christensen's production of The Nutcracker and reconstructing his The Firebird, Sklute conceived and produced his own new versions of Swan Lake, The Sleeping Beauty and Giselle. Sklute has created wildly successful annual programmatic additions to the Season, including a Family Series and Innovations programs.  All in all, in his eight years as Artistic Director, Sklute has introduced over thirty new works and nearly forty world premieres to Ballet West.
A native of Berkeley, California, Sklute began dancing at the age of 16. His early training was at the Oakland Ballet and San Francisco Ballet schools.  After only two years of formal study Sklute became one of the last two artists personally chosen by Robert Joffrey for The Joffrey Ballet. He danced with The Joffrey from 1985 to 2000 and then rose through the ranks to Associate Director in 2005. He became Artistic Director for Ballet West in 2007.  Sklute has served on the boards of Chicago's Dance for Life, Salt Lake Community College, School of the Arts Advisory Board; and the Salt Lake County Cultural Facilities Master Plan Advisory Board. He currently serves on the Board of the Gerald Arpino/Robert Joffrey Foundation. A finalist judge and international representative for numerous ballet competitions including the Youth America Grand Prix, Los Angeles' Spotlight Awards, The International Ballet Competition, The Japan Grand Prix, and an adjudicator for the American College Dance Festival Association, Sklute was listed as one of the 25 Movers and Shakers of the Utah Arts Scene in 2007. In 2014 he was named one of Utah's Enlightened 50 and he received the Utah National Guard's Bronze Minuteman Award for outstanding service to Utah and the nation.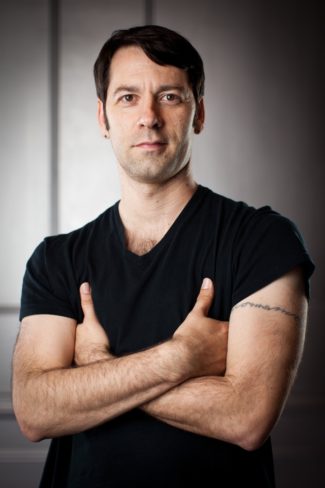 Peter Merz has choreographed over 40 original ballets across the USA and internationally.  His award-winning choreography relies heavily on classical ballet, but is informed by his passion for contemporary dance forms. As a performer he worked with the Dayton Ballet, the Louisville Ballet and the Cincinnati Ballet. In 2002, Peter served as the Artistic Administrator for the USA International Ballet Competition in Jackson, MS. In 2004, Peter joined the faculty of Point Park, where he is an associate professor of dance and Head of Ballet He has served as a judge and Master Teacher for Youth America Grand Prix and the American Dance Competition.  Peter is also in demand throughout the US as a master teacher, and is known for his enthusiastic and encouraging approach to ballet training.  He has twice been named Outstanding Choreographer by the Youth America Grand Prix, and was also honored to be named Outstanding Teacher by that organization in 2014.
In June of 2015, Peter launched MERZTANZ, a contemporary ballet company built solely around his choreography.  This evening length premier performance included several short works interspersed with videos.  The final piece of the program, The Togethercoloured Instant combined video projection and live theater to realize images inspired by the poetry of e.e. Cummings.
Peter's choreography has been produced by Dayton Ballet, Louisville Ballet, Cincinnati Ballet, Gem City Ballet, Charlottesville Ballet, Point Park University, Burklyn Ballet Theatre, Hope Garden Children's Ballet, Mid-Atlantic Ballet.  He has worked as a production manager for the University of Cincinnati and the Opera Theater of Lucca.  He has helped stage galas for the USA International Ballet Competition and for Youth America Grand Prix. He has served as a judge for the Youth America Grand Prix and the American Dance Competition, and is increasingly in demand as a private coach, master and choreographer.
In August of 2015, he joined Ballet West as the Director of the Academy
Christian Burns—SAN FRANCISCO CONSERVATORY OF DANCE
Christian Burns is a director, choreographer, performer and educator. His choreographic platform burnsWORK (SF, CA) serves as a framework for training and performance projects relating to the intersection of improvisation, choreography and performance practice.
Burns began teaching when he was sixteen years old and has been a full time educator for over fifteen years. He is a faculty member of the San Francisco Conservatory of Dance and LINES Ballet Training Program and an Adjunct Instructor for Alonzo King LINES Ballet BFA at Dominican University. Burns teaches ballet technique, improvisation and composition.
Burns has been commissioned by several educational programs such as Stanford University, University of San Francisco, Mt. Holyoke College, University of Michigan Ann Arbor, The Laban Center in London, Interlochen Center for the Arts, the San Francisco Conservatory of Dance and LINES Ballet Training Program and BFA program. Between 2003 – 2008 Burns co-taught (with esteemed improviser Kirstie Simson) over sixty Contact Improvisation and Performance Improvisation workshops for independent studios, colleges and cultural institutions throughout North America, Europe and Taiwan.
 His choreographic work has been presented in the San Francisco Bay Area's Yerba Buena Center for the Arts, ODC Theater, Counter Pulse, The Garage, Headlands Center for the Arts, Z Space Theater and the San Francisco Conservatory of Dance. As well, in Minneapolis, New York City, Ann Arbor, Santa Fe, Western Massachusetts, as well as Germany, France, United Kingdom, Denmark, Sweden, Norway, Switzerland, The Netherlands, Italy, Belgium and Taiwan.
 Burns is a recipient of the Choreographers in Mentorship Exchange (CHIME, as a mentor), Massachusetts Cultural Council Artist Fellowship for Choreography, the National Choo-San Goh Award for Choreography, the Paula Citron Award for Choreography for Camera (from the Moving Pictures Festival in Toronto), McKnight Artist Fellowship. Christian is a contributing author for When Men Dance, Choreographing Masculinities Across Borders, Edited by Jennifer Fisher and Anthony Shay, Oxford University Press 2009 and has self published Motion and Process: knowing not knowing, ideas on dance 2006-08.
 Burns was a guest artist with The Forsythe Company and a company member of Alonzo Kings LINES Ballet and James Sewell Ballet. He has performed with internationally acclaimed improvisers; Kirstie Simson, Chris Aiken, Ray Chung, Michael Schumacher and Katie Duck among others. Burns completed his formal training at The School of American Ballet.
Summer Lee Rhatigan, artistic director, San Francisco Conservatory of Dance retired from performing in 2010 after a thirty-two year career as soloist and principal dancer with:London Festival Ballet (now known as the English National Ballet, Oakland Ballet, National Ballet of Canada, Alonzo King Lines Ballet and San Francisco Opera Ballet.
Selected Press Quotes: "Rhatigan shapes the dance into coherent utterance—enigmatic, yet full of emotion" The Village Voice; "riveting" San Francisco Chronicle; "led…with  exciting brio" The New York Times; "exquisitely musical"  Oakland Tribune; "commanding presence" Toronto Sun; "radiantly expressive" Bay Area Reporter; "[Rhatigan's] sensual recklessness soared" San Francisco Examiner; "once the assoluta  of the Oakland Ballet and currently filling that role with LINES Ballet" San Francisco Examiner (2000)
Choreographers worked with: David Allan, Sir Frederick Ashton, Tandy Beal, Nicholas (Papa) Beriosov, Ruthanna Boris, John Butler, Val Caniparoli, Carlos Carvajal, Michael Clark, Michael Corder, Agnes de Mille, Betsy Erickson, John Field, Beryl Grey, Ronn Guidi, John Hart, Matthew Hawkins, Ronald Hynd, Kurt Joos, Alonzo King, Eugene Loring, Kenneth MacMillan, Léonide Massine, Barry Moreland, Bronislava Nijinska, Robert North, Rudolf Nureyev, Dame Marie Rambert, Mary Skeaping, Michael Smuin, Anna Sokolov, Ben Stevenson, Glen Tetley, and Anthony Tudor, among many others.
Venues performed in: London Coliseum; Palais des Sports, Paris; Metropolitan Opera House, New York; Kennedy Center, Washington DC; the San Francisco Opera House and elsewhere across the United States, Canada, England, France, Italy, Scotland, Czechoslovakia, Poland, Guatemala and China
Training:  The Royal Ballet School, London, England. Teachers included Elizabeth Anderton, Piers Beaumont, Svetlana Beriosova, Dame Ninette de Valois, Julia Farron, Alicia  Markova, Monica Mason, Léonide Massine, Pamela May, Madame Messerrer, Nadia Nerina, Katherine Wade and Terry Westmorland. She has coached many accomplished Other influential teachers included Stanley Williams, Svetlana Afanasieva, Anna Du Boisson, and Bridget Espinosa. Elmhurst Ballet School, Surrey, England and the Winner of the Adeline Genée Gold Medal
Teaching:Founding Director & Teacher, San Francisco – Kansas City Ballet, Washington Ballet, North Carolina Dance Theater, Smuin Ballet, and Ballet B.C. Conservatory of Dance, www.SFconservatoryofDance.org (2004—) Founding Director & Teacher, Alonzo King Lines Ballet School & Pre-Professional Program (2001-2004)
Guest Teacher with Joffrey Ballet, Milwaukee Ballet, Former faculty member of: City Ballet School, San Francisco; San Francisco Dance Center; Performers Ballet School, Albuquerque; Marin Ballet School; Marin Dance Theater
Master classes taught at: U.C.L.A; U.C.Irvine; U.C. Santa Barbara; Cal. State U. Los Angeles; Cal. State U. Long Beach; Cal. Institute of the Arts; San Francisco State U.; U. of Utah; U. of Arizona; U. of Hawaii; U. of Cincinnati; Florida State U.; U. of Maryland; U. of Michigan; U. of Texas/Austin; Texas Christian U.; Brigham Young U.; Southern Methodist U.; George Mason U.; Point Park U; Towsend U.; Cornish College of the Arts; Mount Holyoke College; Skidmore College; Booker T. Washington/Dallas; Arts Umbrella/Vancouver, and dance schools across the U.S.